The Cancer-Kicking! Summit
Experience a transformative and life-changing weekend retreat (or virtual experience) with world-renowned breast cancer surgeon, best-selling author and women's health advocate, Dr. Kristi Funk.
No matter what your health status is, Dr. Funk will teach you how to KICK cancer and other disease to the curb by empowering you with the wisdom, resources and action plan needed to maximally improve your health.
Become a Cancer Kicker today!
2021 In-Person Event Gallery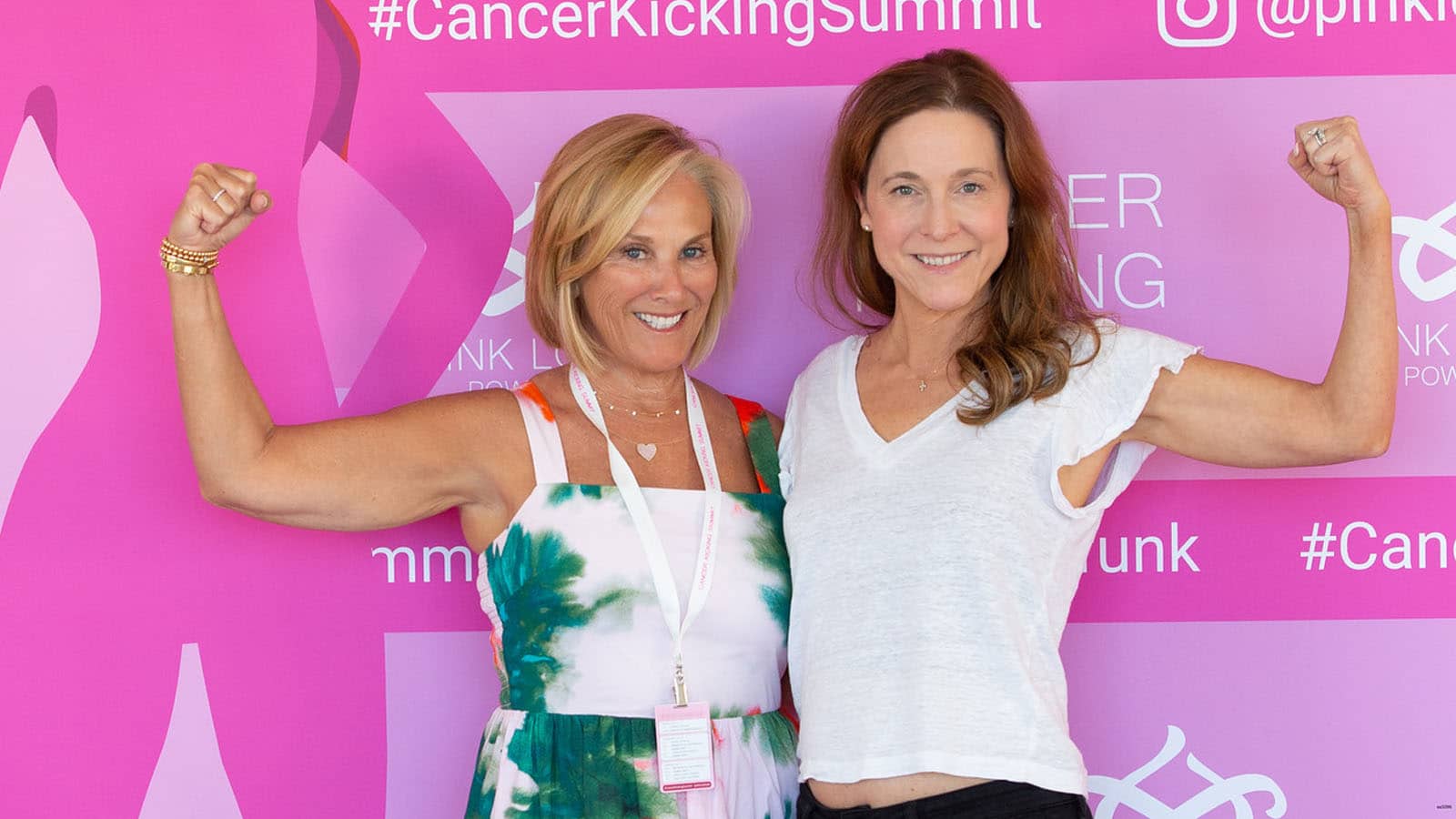 Summit Information
Empowerment Starts Now
Calling all women, teens and up! Join us for our Virtual Summit (available at any time) or every October for our in-person Cancer-Kicking! Summit at the breathtaking Terranea Resort in Southern California.
World-renowned breast cancer surgeon and bestselling author Dr. Kristi Funk will rock your weekend with information that is sure to change your life. This high-energy gathering promises to inform and empower women of all ages who care about living their healthiest lives and want to maximally reduce their chances of disease. Whether you are one of the 45% of Americans living with a chronic disease or you simply want to take the first step to truly elevate your health, this summit summons you!
Arm yourself with scientifically-backed facts and the tools you need to kick cancer as far from you as possible, while also radically reducing the risk of other chronic illnesses, including heart disease, stroke, diabetes, Alzheimer's, obesity, depression, arthritis, asthma, autoimmune disease and more. Learn to intelligently navigate the conflicts and contradictions that compete for your attention everywhere you look. Let Dr. Funk share her 25 years of medical wisdom as she provides a clear and actionable roadmap for healthy living and wellbeing.
Evidence-based and backed by rigorous research, Dr. Funk's approachable and often hilarious speaking style distills scientific wisdom into simple, actionable, take-it-home and start-right-now power. This is NOT a boring medical conference with monotonous research reports and studies – quite the contrary. Dr. Funk's degree in psychology and TV celebrity background amp the entertainment value above and beyond any mundane medical discourse. Prepare yourself for an action-packed virtual or in-person experience that will unshackle you from mental chains, energize you with achievable goals, and empower you with lasting friends.
The Backstory
How did it all start? Dr. Funk explains how the idea of the Cancer-Kicking! Summit came to be on Hallmark Channel's Home & Family.
2022 In-Person Summit Event Schedule
Thursday, October 13, 2022 (optional)
Optional Activities TBD
Friday, October 14, 2022 (optional)
7:00am – 9am: Event Check-in
7:00am – 8am: Activity TBD (optional)
8:00am – 9am: Breakfast (for workshop participants only)
9:00am – 1pm: Specialty Workshops (optional)
1:00pm – 2pm: Lunch (for workshop participants only)
2:00pm – 4pm: Activity TBD (optional)
5:00pm – 7pm: Private VIP Dinner (optional)
Saturday, October 15, 2022
7:00am – 9am: Event Check-in
8:00am – 9am: Breakfast (Cove Terrace)
9:00am – 1pm: Summit Day 1, Part 1
1:00pm – 2pm: Lunch (Cove Terrace)
2:00pm – 6pm: Summit Day 1, Part 2
6:30pm – 8pm: Evening Gathering w/ Appetizers (TBD)
Sunday, October 16, 2022
7:00am – 7:45am: Palos Verdes Run with Andy (optional)
8:00am – 9am: Breakfast (Cove Terrace)
9:00am – 12pm: Summit Day 2
12:00pm – 1pm: Lunch (Cove Terrace)
2:00pm – 3pm: Exploration Trail Hike (optional)
During our 2021 Summit, we received many requests to add additional activities and workshops with topics of interest. We thought about it, and agree! For our 2022 Summit, two additional activities and 3 workshops will be added. One of the workshops will focus on Hormone Replacement Therapy (HRT), while another one will focus on Weight Loss. Once the third workshop is confirmed, it will be posted here. Workshops will be limited to a smaller group of attendees. We will announce the maximum size per group shortly.
Dr. Kristi Funk is a board-certified breast cancer surgeon, bestselling author and international presenter. With over 25 years of medical experience, she is an expert in minimally invasive diagnostic and treatment methods for all types of breast disease and has helped thousands of women through breast treatment, including well-known celebrities, like Angelina Jolie and Sheryl Crow, who have turned to her for her surgical expertise.
Dr. Funk authored the bestseller, Breasts: The Owner's Manual, and after a deep dive into nutritional science literature (that originally lasted a year and has yet to stop), she uncovered an abundance of evidence-based research that dramatically shifted her perspective from a predominantly surgical focus while treating disease, to one that individualizes care and empowers millions of women all over the world to dramatically reduce their risk of cancer and many of life's major killers. Dr. Funk has merged her medical knowledge and background in psychology with her own life experiences and those of her 20,000+ patients to create the life-empowering Cancer-Kicking! program that teaches women (and men) how to maximally reduce the chances of facing a killer disease.
After graduating in Psychology with distinction from Stanford University in 1991, Dr. Funk received her medical degree from the UC Davis, School of Medicine. She completed her surgical residency in Seattle, WA, followed by a surgical breast fellowship at Cedars-Sinai Medical Center in Los Angeles, where she then excelled as a surgeon and Director of their Breast Center until 2009. That year, Dr. Funk, alongside her entrepreneurial husband, opened the Pink Lotus Breast Center in Beverly Hills, which became the first center of its kind in the United States, fusing state-of-the art screening, genetic testing, diagnosis and treatment with preventive strategies and holistic, compassionate care – all under one roof.
A sought after speaker and TV personality, Dr. Funk is the go-to breast expert for Good Morning America and The Doctors, and has appeared on Today, The Dr. Oz Show, CNN, Rachael Ray, The View, and more, as well as countless radio and podcast interviews. Dr. Funk has received dozens of honors and awards and uses her appearances to educate and give back to the community. She resides in Pacific Palisades, CA, with her husband and triplet sons.
View Dr. Funk's full biography including awards and honors.
Community is a powerful tool that supports and elevates your health. We purposefully built making friends and meeting like-minded individuals into our Summit as a "key ingredient" for success. And of course – improving your health and wellness feels more natural when you are already surrounded by pure beauty. This is why we host the annual Cancer-Kicking! Summit every October at the luxurious, relaxing and incredibly scenic 5-star Terranea Resort (terra-NAY-a).
Located just along the Pacific Ocean on the beautiful Palos Verdes Peninsula in Southern California, this hidden gem on the Los Angeles coast is a 102-acre luxury resort destination surrounded by tranquil waves and offers a whole new world of relaxation and adventure that words just can't describe.
Terranea Resort
100 Terranea Way
Rancho Palos Verdes, CA 90275
(855) 938-4047
While we encourage all event participants to stay on site in order to get the most out of the event, attendees are not required to stay at Terranea Resort.
Saturday night only, Fri/Sat night and Thu/Fri/Sat night room rates are available for purchase and included in our available ticket registration options below. If you opt to stay at Terranea, you can choose between a King bed or two Queen beds during checkout. If you plan on bringing family to the event, we can offer you the same discounted rate via special order so that you can purchase additional guest rooms at the resort.
If you prefer not to stay at Terranea Resort, there are several options available within a 20 minute drive from the event, including up-scale options like the Portofino Hotel & Marina and budget friendly options like the Ramada by Wyndham Torrance, Best Western Plus Redondo Beach Inn, Days Inn by Wyndham Torrance Redondo Beach and Redondo Inn and Suites.
By Car
Terranea Resort is located in beautiful Southern California on the Palos Verdes peninsula. You will feel like the city is lightyears away, yet Los Angeles and Orange County are  just a short drive away. The 405, Long Beach and Harbor freeways all get you within a 20-30 minute drive of the resort.
By Plane
Los Angeles International Airport (LAX) and the Long Beach Airport (LBG) provide the shortest distance to Terranea Resort. John Wayne Airport in Orange County and Burbank Airport in the San Fernando Valley provide alternatives but require a longer drive to the resort.
The following event rules policy is designed to explain in simple terms the general rules, purchasing and refund guidelines of the Cancer-Kicking! Summit in-person and virtual events. If you have any questions about the information below, please reach out to us at [email protected] The Cancer-Kicking! Summit ("CKS") and the Virtual Cancer-Kicking! Summit ("VCKS") with host Dr. Kristi Funk are owned and organized by Pink Lotus Power Up, LLC ("PLPU"). Each CKS and VCKS event is subject to this event policy. By completing a purchase for the VCKS or one or more CKS tickets, you confirm and agree to the following:
Payments
Your registration for CKS or VCKS must be submitted on the Pink Lotus Power Up website and must be paid in full via credit card before your registration or video access will be confirmed. Payments by phone or mail are not accepted. For the in-person CKS, you may register and pay for more than one attendee. If you purchase more than one CKS ticket during checkout, you are required to provide the names of all attendees you are registering. Failure to provide the correct names may result in your attendees not getting access or getting delayed access to the CKS event upon check-in. All ticket prices are stated in U.S. Dollars.
Event Dates & VCKS Video Access
Your CKS ticket entitles you to attend and is only valid for the event dates listed at the time of purchase and in your e-mail reservation confirmation. Registrations may not be exchanged or redeemed for a future event. Video access to the VCKS is provided immediately upon completing your purchase. To view the VCKS videos, you must be logged into your user account, where you may view all videos on the Virtual Summit page. A VCKS purchase entitles you to one viewing license for your user account. VCKS videos may not be shared, downloaded, screen-recorded or screen-shared, nor may VCKS videos be viewed by giving another person access to your user account. To protect PLPU from unauthorized access, our systems continuously monitor IP traffic to detect if users are accessing the VCKS page from different geographic regions with the same user account.
Cancellations and Transfers
VCKS purchases are not refundable. All in-person CKS tickets are non-transferable without the prior consent of PLPU. All CKS VIP, special offer and discounted Early Bird registrations purchased are non-refundable and these sales are considered final.
Early bird and discounted reservations are final and non-refundable. All Tier 1 tickets have a $145 non-refundable processing and registration fee that will be subtracted from your refund amount. Refunds for Tier 1 tickets must be received on or January 31, 2022. Tier 1 tickets purchased after this date are non-refundable and considered final. All Tier 2 tickets have $245 non-refundable processing and registration fee that will be subtracted from your refund amount. Refunds for Tier 2 tickets must be received on or before April 30, 2022. Tier 2 tickets purchased after this date are non-refundable and considered final. To request a refund, please contact PLPU at [email protected] We have a small team so please allow 2-3 days before receiving a response. If you are unable to e-mail, please contact us and send your refund request by mail to Pink Lotus Power Up, 3110 Main Street, The Annex, Santa Monica, CA 90405.
Cancelled Events
In the unlikely event of a cancelled or postponed CKS event, we will attempt to contact you to inform you of refund, rescheduling or exchange procedures. If an event is completely cancelled, we will automatically issue you a full refund to the credit card that you used to purchase that ticket.
No Medical Advice
The information and content provided by Dr. Kristi Funk during CKS and VCKS is exclusively for informational purposes and is not intended to create a physician-patient relationship. Furthermore, the information and content is not a substitute for professional medical advice, diagnosis, or treatment. Our host, Dr. Kristi Funk, is not providing you with a medical consultation nor is Dr. Funk directly addressing any of your personal medical or health concerns. If you are currently under the care of Dr. Kristi Funk as a patient and need to discuss your personal medical condition or how any information you learned during CKS or VCKS may affect your personal medical condition, please make an appointment with Dr. Kristi Funk in her capacity as your physician at her current place of business and during regular business hours.
Always seek the advice of your own physician or other qualified health provider with any questions you may have regarding any medical condition you may be facing. Do not disregard professional medical advice you have received or delay in seeking such advice because of something you have heard or read during the CKS or VCKS. If you think you may have a medical emergency, you should call your doctor, go to the emergency room, or call 911 immediately. Reliance on any information or content provided during the CKS or VCKS is solely at your own risk. By purchasing CKS tickets or VCKS access, you understand that you release and discharge PLPU and its directors, employees, contractors, or agents from any and all liabilities, claims, or demands arising out of or in connection with the program, and you assert that you have the right to enter into this agreement on behalf of yourself and/or anyone for whom you may purchase a registration.
Release of Liability
By purchasing CKS tickets or VCKS video access, you understand that you release and discharge PLPU and its directors, officers, members, employees, contractors, speakers, or agents from any and all liabilities, claims, or demands arising out of or in connection with the event and you further understand that the aforementioned released parties accept no liability of any kind for the acts of any attendees during the in-person CKS, or for the safety of any attendee during and/or while in transit to or from the CKS. PLPU reserves the right to cancel any CKS events without liability. PLPU further reserves the right to admit and the right to exclude any person from its events, or refuse service to any attendee, at the sole discretion of PLPU. Furthermore, PLPU is under no obligation to provide an explanation for its actions, but may do so at its own discretion.
Image and Audio Release
By registering for the in-person CKS, you hereby grant PLPU the right and permission to use, publish and republish photographs, video and/or audio of the CKS event you attended, which may include you in whole or in part, and to use, publish or republish them in any printed or electronic matter or media as PLPU sees fit. By registering for an in-person CKS event, you forever discharge PLPU from any and all claims and liability arising out of or in connection with the use of any photographs, videos or audio recorded at any CKS event.
Failed Orders & Errors
If you do not receive a confirmation number (in the form of a confirmation page or email) after submitting your payment information, or if you experience an error message, power outage, or any kind of Internet service interruption during or while submitting your payment information, it is your responsibility to confirm with PLPU whether or not your order has actually been placed. Only you may be aware of any problems that may occur during the purchase process. PLPU will not be responsible for losses (monetary or otherwise) if you assume that a CKS registration order was not placed because you failed to receive confirmation. For a receipt confirmation, please reach out to us.
Potentially Explicit Content
With the focus of CKS and the VCKS being on women's health, visual content shown at CKS or in the VCKS videos may contain certain images that could potentially be interpreted as sexually explicit. If you find these materials offensive, you may not want to attend a CKS event or view the VCKS.
Virtual Summit Signup
The Virtual Cancer-Kicking! Summit is available immediately online and can be viewed from any device, at any time.
Available Immediately
Watch on any device
Same program as the in-person Summit
11+ Hours of Videos
In-Person Registration
Attendance for the in-person 2022 Summit includes breakfast and lunch both Saturday and Sunday. If you attend any of our optional workshops on Friday, breakfast and lunch on Friday is included in your reservation as well. Lodging at Terranea is completely optional.
Early Bird Pricing Expires Jan 05, 2022 at Midnight!
Additional In-Person Options
2022 Friday VIP Dinner
$295
Private VIP Dinner with Dr. Funk
Terranea's Signature Restaurant
Oceanview Terrance Dinner
4 Course Meal + Wine
Max 20 Guests
First Come First Serve
2022 Discounted Valet Parking
$30
Good for 1 Day Valet Parking
Update Qty during checkout if staying for more than 1 day
2022 Additional Lodging
$350
Good for 1 Additional Discounted Night at Terranea
Update Qty during checkout if more than 1 night is desired
We will contact you after checkout and ask which day you would like to add
All ticket purchases are subject to our Terms and Conditions and to the Event Rules posted on this page, which you must accept during checkout. We look forward to seeing you virtually starting in April, or in October for our in-person event!